地质和历史分层在迷信山之中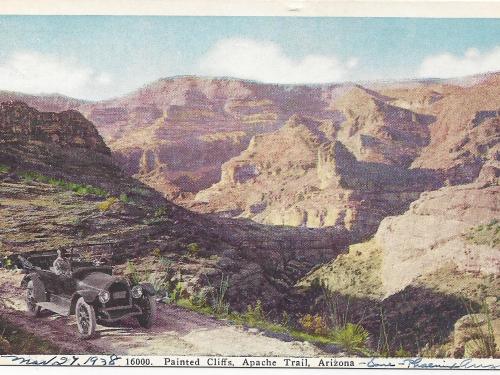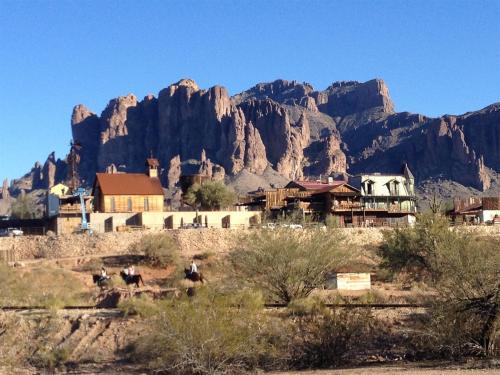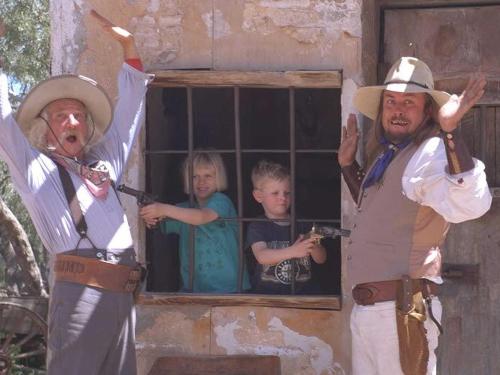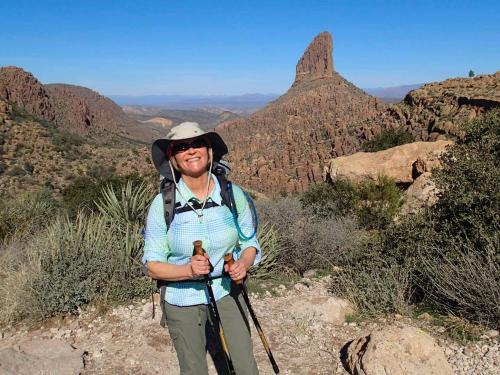 The magnetic lure of the Lost Dutchman Gold Mine has been attracting treasure seekers into the wilderness of the Superstition Mountains for over a century and a half, and finally it drew in me and my wife. Trisha and I were excited about our first backpacking trip into the desert, but never did we think we'd uncover the
location of the Lost Dutchman mine!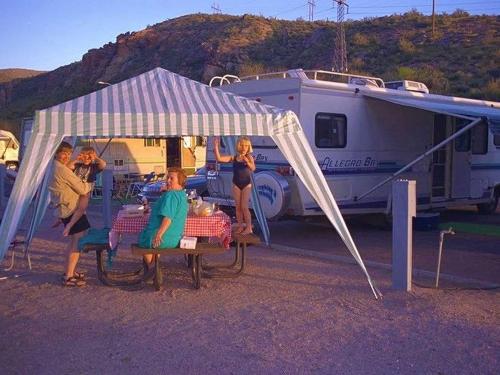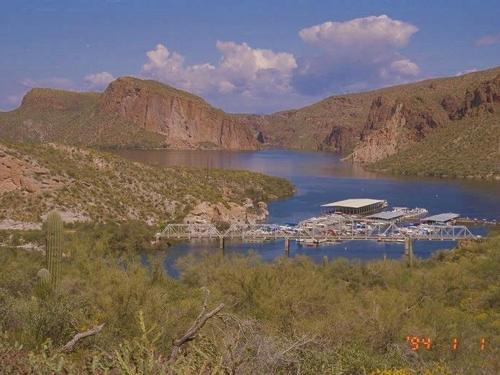 Just up the road is
Canyon Lake
. One of four lakes created by damming the Salt River a century ago, Canyon Lake is a popular stop along the Apache Trail. At the Canyon Lake Marina you can rent a boat, bird watch, picnic, fish, scuba dive, hike, waterski, wakeboard, Jet Ski, sunbathe or even cruise on a paddle wheeler. Our family has visited Canyon Lake many times over the last twenty years. Our children loved swimming during the day and camping under the star-filled sky at night.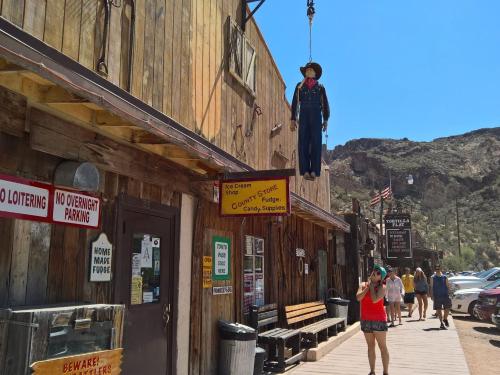 At the east end of Canyon Lake is Tortilla Flats. This was an old stage stop on the Apache Trail and it's still a good place to stop for a rest and enjoy a meal or an ice-cream. There is a saloon and interesting curiosity shops.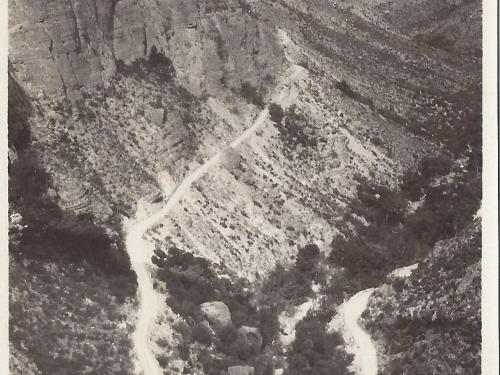 The geological formations at Fish Creek are stunning. Here light-colored bands of lava flows have formed huge cliffs and the road drops 800 feet to the bottom of the creek bed. Supposedly, Apache combatants hiding in a nearby cavern called Hip Pocket in the late 1880s were destroyed when U.S. troops under General Crook rolled stones on them from the cliffs above.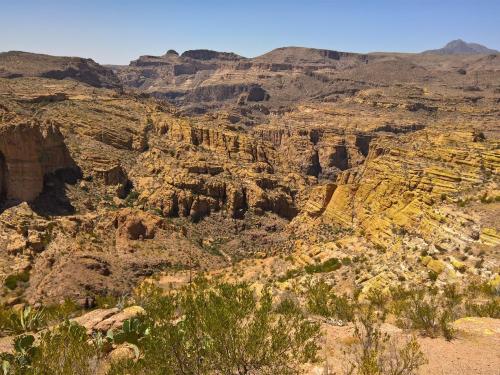 At the head of Lake Roosevelt, you'll find the Roosevelt Dam. It was originally built over a century ago and it was the world's highest masonry dam. The dam was built in a Greco-Roman style by stacking large stones upon each other like stair-stepping building blocks. Today the masonry blocks are encased in concrete.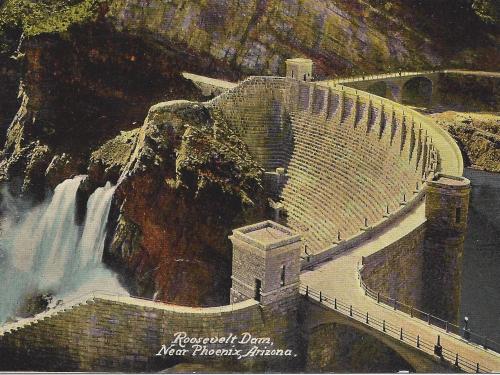 The Roosevelt Dam was the first major federal reclamation project attempted. When it was completed, Lake Roosevelt was the largest artificial lake in the world. Today it's a boaters and swimmers paradise.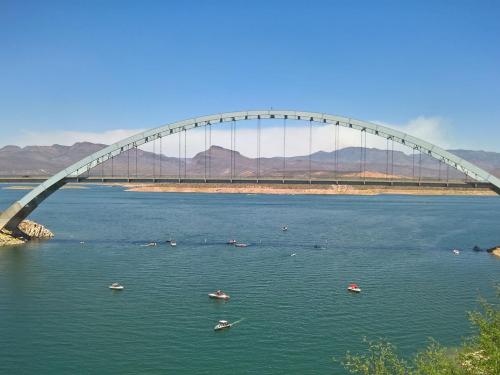 The
Tonto National Monument
is located at Lake Roosevelt. We climbed the trail that switch-backed up to the cliffs behind the visitor center. The paved path was steep but short. In May, the stately Saguaro cactus are just beginning to bloom along with the yellow flowers of the Prickly Pear cactus.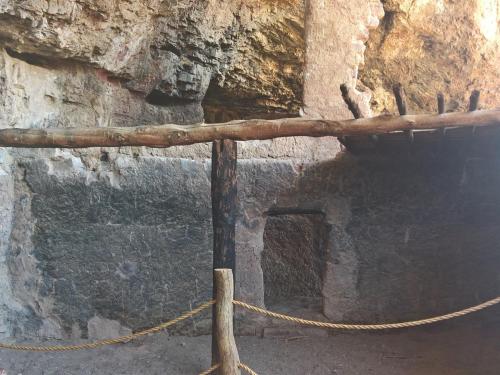 Nestled into the overhang of a cliff were the ruins of the ancient Salado culture. We walked among the rooms and felt comfortable and cool, though the heat was stifling on the trail. The Salado used rough stones and plenty of mud as mortar. The roof was built using wooden crossbeams, saguaro ribs, grasses and mud. Though the construction wasn't sophisticated, it was solid enough that part of the wooden roof remains 600 years later.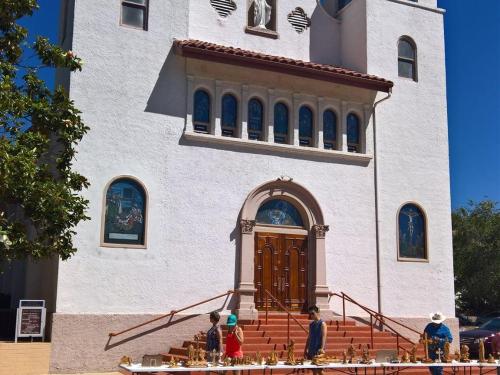 We continued southeast and stopped in Miami, an historic copper boom-town. Miami's downtown has some great old buildings, a pretty Catholic church and some fun places to shop for antiques.

At Miami you reach highway 60 and by turning west you'll be back at the Magnuson Hotel Papago Inn in around an hour.

Story and photos by Bret Wirta