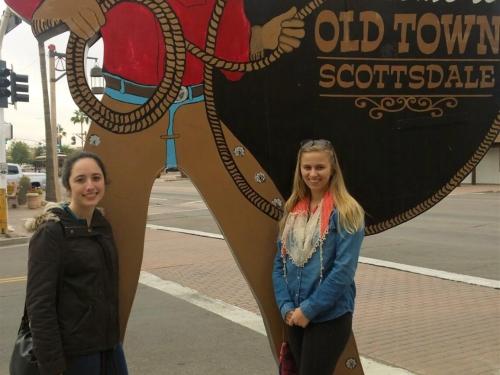 First we strolled to the
Salty Senorita
for some tasty tacos and potent Moscow mules. Last time I had eaten at this particular establishment it had been while I was visiting Scottsdale on spring break from college. The Salty Senorita had been packed in the middle of the day with tipsy and sunburnt spring-breakers. Now, on a clear Sunday night in December, Marjorie and I were the only ones at the restaurant. To the surprise of the waitress, we decided to sit outside under the heat lamp. To Marjorie and I the night was warm compared to the damp winter nights of the Pacific Northwest.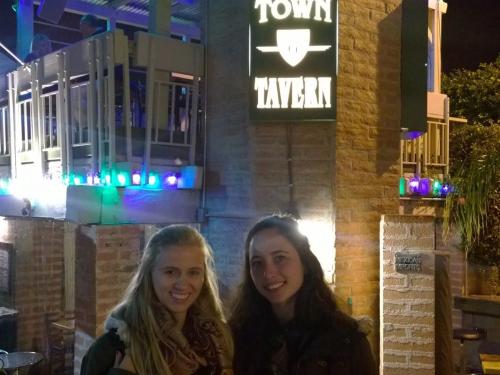 After perusing a few galleries, we ordered margaritas at the
Old Town Tavern
. Marjorie and I sipped our drinks while we listened to the live music. The band playing that night covered rock and country favorites while the crowd sang along. The bartender said this tavern was famous for its cocktails and live music every night of the week. The Old Town Tavern, located on the beautiful public park known as the Civic Center Mall, was a favorite hang-out for locals and tourists alike. Marjorie and I felt slightly out of place without adorning a pair of cowgirl boots and a bejeweled top.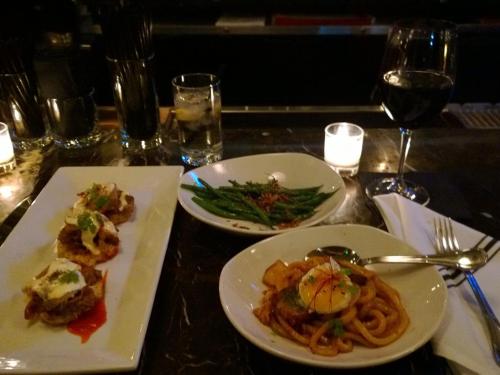 While Majorie and I were out and about, my Dad hug out at The House Brasserie. He said it was a chic and cozy restaurant in an old remodled house. There was an extensive wine list, innovative cocktails and cutting-edge taste combos. Dad sat at the bar and enjoyed the small plates with the big flavors.
The next day, after an event-filled day of sightseeing at the Desert Botanical Gardens, The Phoenix Zoo, and the desert rock formation known as the Hole in the Rock, we were back in Old Town Scottsdale for another evening of drinking and playing in cowboy country. This time, my Dad was with us and the three of us did some Christmas shopping. Dad bought a kokopelli shirt at Bichoff's Shades of the West, so he could blend in with the other residents of Scottsdale. Marjorie bought an adorable potted cactus plant for her mother. I loved the beautiful cowboy boots at Saba's. The owner chatted with us and explained that Saba's had been an Arizona tradition for 85 years while we had fun admiring the many boots. When I'm ready to buy my first pair of authenic western cowgirl boots, I'm coming back to Old Scottsdale.
After our shopping was done, it was time to pick a restaurant in Old Town for dinner. If you are looking for a traditional Mexican restaurant Los Olivos is a good choice. Los Olivos is owned and run by the Corral family who is proud of their tradition of good food, a warm and friendly atmosphere, and of being able to contribute to the history and heritage of Scottsdale for three generations. My Dad and cousin have eaten there. They said the food was good and it was reasonably priced.
We opted for a trendier restaurant. After some searching, we found Bootleggers Modern American Smokehouse. This restaurant is symbolic of Old Town Scottsdale: its simple interior is simultaneously fresh and rustic. The menu was simple, but everything was vibrant and tasty. I enjoyed my meal of ribs, greens, and brussel sprouts. My cousin Erin and my Grandmother (known to all relatives and non-relatives alike as "Nanny") both joined us. We had a fantastic time eating, drinking, and telling stories about our silly pets.
After dinner, we walked two blocks to the Rusty Spur. The Rusty Spur is Scottsdale's oldest saloon and it boasts live music every night. That night Jan Garritt played the guitar and sang. Jan had a soothing voice and an impressive repertoire. Nanny was especially excited when he sang Johnny Cash because it reminded her of her late husband. My grandpa had seen Johnny Cash live in concert, and he and his rowdy friends stole the rock legend's license plate after the show. I'm sure my grandpa would have felt right at home in the Rusty Spur with the live music, simple cocktails, and all of the license plates adorning the walls.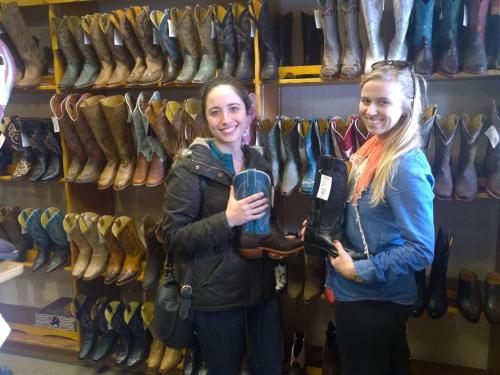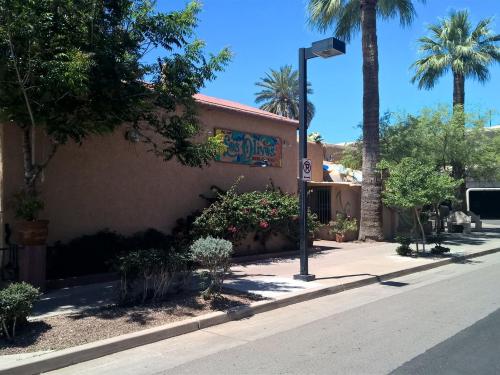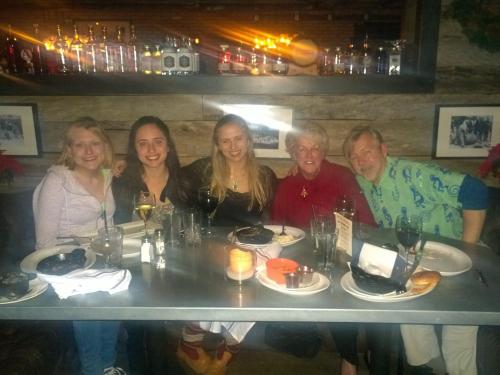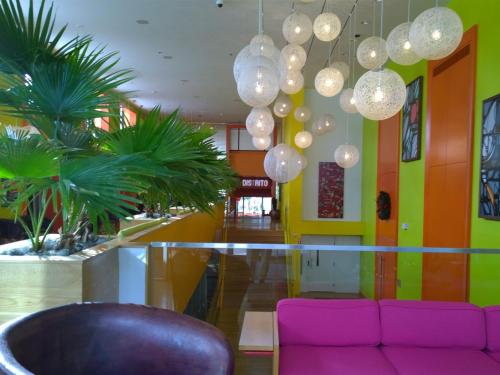 The next morning Marjorie, Dad, and I went to brunch at the
Saguaro Hotel
.
This incredible hotel is painted in fantastic fluorescent colors made to mimic the Arizona sunset. Also located on the refreshing green lawn of the Civic Center Mall, it is directly across from the Museum of Contemporary Arts and the Scottsdale Center for Performing Arts. There are even concerts and events held on the lawn right next to the hotel amidst fountains, lawns, and sculptures. It is worth visiting this hotel to view the art and the interior decorating alone, but their breakfast burrito was also zesty and filling.
Another way to see Old Scottsdale is with
Scottsdale Segway Tours
. The Front Desk at the Magnuson Hotel Papgo Inn recommended we tour Old Town Scottsdale with Scottsdale Segway Tours. I admit to being skeptical about riding a Segway. It seemed difficult to master and a bit goofy. But instead we had the most fun touring Old Town Scottsdale! We learned how to drive the Segway in 5 minutes.
After breakfast, Juan drove us back to the airport. We saved some serious cash by not having to rent a car! We thoroughly enjoyed our few days in Old Town Scottsdale; it was so convenient - just a couple of miles from the Magnuson Hotel Papago Inn. From the food, to the art, to the music, Old Town provides hours of entertainment. Even with the glitzy bars and clubs scattered on the outskirts of Old Town Scottsdale, there is still an atmosphere of vintage cowboy in this vibrant city center. It is an ideal place for friends and family to connect with one another while sipping a beer and listening to some Johnny Cash.