Indian Bend Wash Greenbelt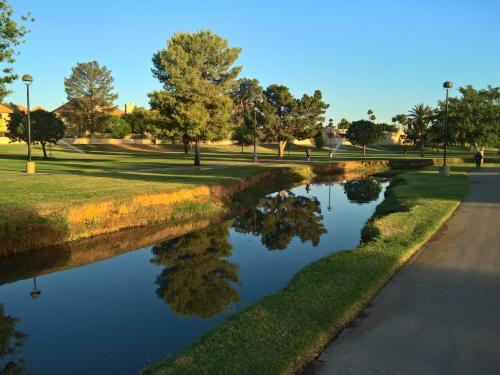 The Indian Bend Wash Greenbelt is an eleven mile string of parks, lakes, paths, sports fields and golf courses through the heart of Scottsdale. The Indian Bend Wash Greenbelt, which began as a flood control project, has become one of the top urban green spaces in Arizona. Best of all, the greenbelt is just a mile from the Magnuson Hotel Papago Inn.
Don't have a bicycle? You can rent one from
Spinners on the Green
located right next to the trail at . They have helmets, maps, water, locks, and baskets. Their friendly staff will have you on your way exploring the trail before you know it.
The trail intersects the Arizona Canal at the Silverado Golf Course where the canal emerges from a tunnel.
The Indian Bend Wash Greenbelt project was built because Scottsdale outgrew its Old Town core and spread eastward into the Indian Bend Wash flood plain. Devastating flooding in the 1950's made the city realize a flood control plan was needed. The Army Corps of Engineers recommended a concrete canyon, but the people of Scottsdale said no, a greenbelt is a better way.
The major portion of the Indian Bend Wash Greenbelt was completed in the mid-1980's, and thanks to the foresight of city planners, Scottsdale has an oasis of green in the center of their desert city. The attractive ponds are home to ducks, geese, and occasionally some rare birds. Bring your binoculars!
If you have a favorite outdoor sport, it's probably being enjoyed somewhere along the Indian Bend Wash Greenbelt. Bring your bicycle, running shoes, ball, bat and glove, Frisbee, fishing pole, rugby ball, tennis racket, golf clubs and skateboard.

You can safely enjoy the greenbelt because it avoids busy cross-traffic with more than a dozen tunnels and bridges like this pretty Thomas Street bridge.

There are many places to picnic and there are public toilets just south of Thomas Street at this clean facility.

The Indian Wash Greenbelt is a wonderful place to ride in the evening. It's well lit and especially beautiful under a full moon.

The greenbelt ends at Tempe Town Lake. There, you can continue westward along the shore of the lake to the Cross Cut Canal Multi-Use Path and back to The Magnuson Hotel Papago Inn.

Another good choice, especially if you rented your bikes at Spinners, is to grab something to eat or drink at Duke's Sports Bar & Grill at Vista Del Camino Park. It's right along the trail!

From the Magnuson Hotel Papago Inn, the Indian Wash Greenbelt is a mile east along East McDowell Road Be sure to stop by the front desk and tell us all about your bicycling adventure!

Story and photos by Bret Wirta