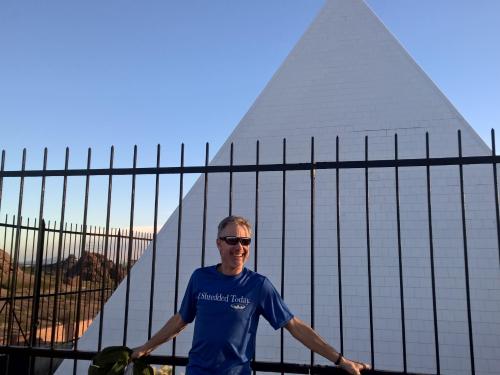 One of the more unusual places within walking distance of the Magnuson Hotel Papago Inn is a twenty-foot high mausoleum modeled after an Egyptian pyramid. Hunt's Tomb is made of gleaming white ceramic tiles and commands a view of Tempe, Mesa and Scottsdale from where it sits on the hill next to Bighorn Sheep Rock in the middle of Papago State Park.
The mausoleum was built by the first Governor of the State of Arizona, George Hunt and in it rest his remains along with the remains of his family. Hunt was an interesting man; he was elected many times, being Arizona's 1st, 2nd, 3rd, 4th, 7th, 8th, and 10th governor. Hunt journeyed to the Middle East and was fascinated with Egyptology. Hunt supported women's rights long before women could vote and called wealthy railroad and mining barons "Skunks and Coyotes." Hunt's quirky tomb is on the National Register of Historic Places.
To reach Hunt's Tomb from the Magnuson Hotel Papago Inn walk west along E. McDowell street for three blocks until you reach the multi-sport path along the Arizona Crosscut Canal, turn south and walk along the canal until you can look up and see the gleaming white pyramid on the hill above you. There is a rough path up the hill, but it's a bit of a climb so wear some comfortable shoes and grab a bottle of water from the front desk of the Magnuson Hotel Papago Inn before you leave. It's a 1.7 mile walk to Hunt's Tomb that will take you less than an hour.