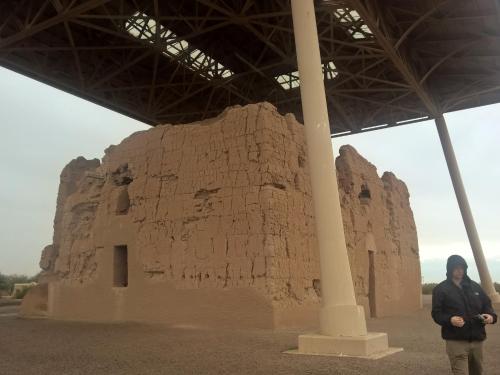 January 4th 2016. On a day when chilly wind and cold rain swept across the desert, my son, Garrett and I visited Casa Grande Ruins National Monument. The main attraction at the one-mile square monument is Casa Grande, a colossal, 4-story, 11-room structure which was built during the 1300's.

The construction of Casa Grande must have involved many people and been a well-organized, cooperative effort. The National Park Service estimates that six million pounds of caliche were used to build Casa Grande. Caliche is a naturally occurring material that hardens like concrete. Caliche is made up of clay, sand and calcium carbonate that's located under the top soil.
Though many clues have been uncovered, archaeologists still aren't sure as to the purpose of Casa Grande. The circular opening high on the west wall aligns with the setting sun on July 21st. Other windows and doorways align with the sun and moon at significant dates during the year. Was Casa Grande a prehistoric observatory? A spiritual gathering place?
Casa Grande was built by ancient Sonoran Desert people. These mysterious people were successful farmers. They designed and built intricate irrigation systems. Because of their central location and great agricultural wealth, the ancient Sonoran Desert people developed extensive trade connections. Bracelets, rings, necklaces and pendants with shells that were from as far away as the Pacific Ocean and the Gulf of California have been uncovered at Casa Grande.

The ancient Sonoran Desert people's civilization flourished for over a thousand years. Then around 1450 C.E., for reasons that are still unclear, the ancient Sonoran Desert people abandoned Casa Grande. The great structure stood empty for centuries and it began to decay. Souvenir hunting, graffiti and vandalism accelerated the demise of Casa Grande. Long after the original inhabitants of Casa Grande left, Father Kino, a catholic priest, stumbled across the amazing structure in 1694. He wrote in his journal that the building was as large as a castle. Father Kino sketched the site and named it Casa Grande or 'great house.'

On July 12, 1852, while surveying the new international border that was being negotiated as a result of the recently ended Mexican War, commissioner John Russell Bartlett detoured to Casa Grande and took careful measurements, observations and he sketched the ruins. All the local Indians would say is that it was built by Montezuma. Nonetheless, Bartlett left us with some of the earliest attempts at scientific and cultural documentation.

Anthropologist and historian, Adolph Bandelier visited the area in 1883-1884 and reported on the deterioration of the Casa Grande. Others followed and demanded government action. Finally, in 1892, President Benjamin Harrison set aside one square mile of Arizona Territory surrounding the Casa Grande Ruins as the first prehistoric and cultural reserve established in the United States, and preservation began in earnest.
Research, repairs and interpretive programs are now part of the National Park Service's mission to protect, preserve and make available for present and future generations the many wonders of Casa Grande. Today Casa Grande is a very popular tourist attraction. This was our second visit to Casa Grande. Our family visited the site back in 2000 when Garrett was little.
The O'Odham, Hopi, and Zuni are modern-day descendants of the ancient Sonoran Desert people. These tribes celebrate the wisdom, skills and knowledge of their ancestors at the annual American Indian Arts and Music Festival at Casa Grande. According to the National Park Service, "this festive event celebrates the connection and continuity of prehistoric and current American Indian cultures through music and other arts." The next Casa Grande Arts Fest is Saturday, November 19, 2016.
For directions from the Magnuson Hotel Papago Inn, Click Here and selection Arizona Attractions from the drop down list.
Story and Photos by Bret Wirta with information provided by the National Park Service.