College Baseball at Sun Devil Stadium
Arizona State University returns to Phoenix Muni Staduim
We were excited to visit the new Sun Devil Stadium and watch Arizona State University play spring baseball in the warm sunshine. My friend Joel and I walked there from the Magnuson Hotel Papago Inn, along the
Cross-Cut Canal Multi-Use Path
, past the red cliffs of Papago Park.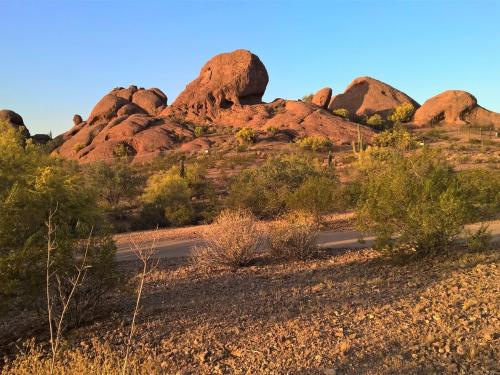 Sun Devil Stadium is the former historic, Phoenix Municipal Stadium. I watched the Oakland Athletics play
Cactus League
games there. In 2015, the Oakland Athletics moved to the newly renovated Hohokam Stadium in Mesa, while the Arizona State University Sun Devils returned to the stadium that played host to their college baseball program from 1964-74.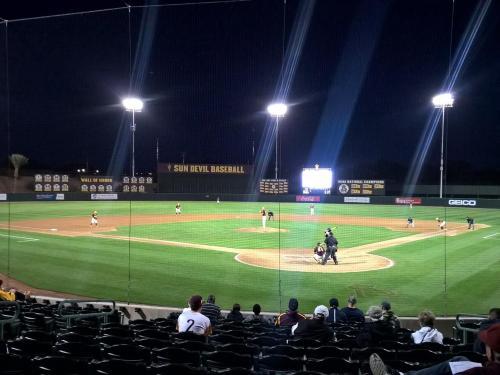 ASU has invested in many capital improvements at the ballpark including a state-of-the art video board, batting tunnel, weight room, a redesigned clubhouse complete with a player's lounge, academic center and training room, creation of a grass berm and patio installations, and premium seating options. Of course, the team brings to its new home its popular mascot, Sparky the Sun Devil.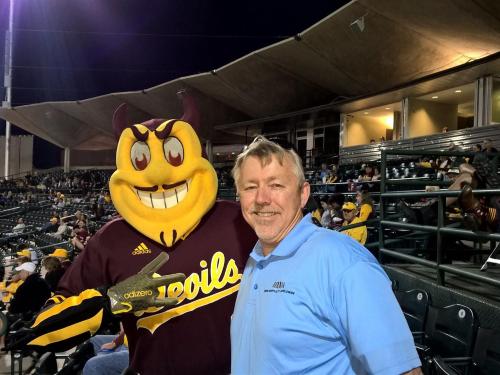 We sat right behind home plate and had a great view of all the action. The red Papago cliffs made for a picturesque outfield backdrop. There were plenty of food choices at the concession stands and you can even purchase a beer with your hotdog, which is not the case at all college sports facilities.
I'm glad to see the Sun Devil's baseball program continue at the old Phoenix Municipal Stadium, because of all the baseball history that's occurred there. It is the area's oldest stadium. The New York Giants played there as part of their move to the West Coast from the Polo Grounds in New York City. Willie Mays hit the first home run at Phoenix Muni and Reggie Jackson was the first college player to hit a home run out of the park there. Billy Martin starred for the Phoenix Senators minor-league team, Joe DiMaggio played his final spring training and Mickey Mantle his first, and Willie McCovey of the Triple-A Phoenix Giants terrorized the Pacific Coast League, all at Phoenix Municipal Stadium.
ASU Sun Devil Coach Tracy Smith said. "Baseball is such an historic game anyway. But to be able to say those people physically graced the grounds of our facility is something special. It speaks for itself." You can almost imagine DiMaggio rounding the bases and Mays signing autographs for the kids.
I have my own story of baseball lore at old Phoenix Muni. While I was at one of the last Oakland Athletics Spring Training games, I was trying to find the concessions so I could buy lunch for my niece. I asked this good-looking man sitting at a table, "Where are the hot dogs?" After a long pause he says, "Do I look like I know where the hot dogs are?" Then I realize – oh my goodness, he's ex-Oakland Athletic pitcher Vida Blue! He was the scourge of the Red Sox batters of my youth. After a while he forgave me for being such a knucklehead and talked to me about how much he enjoyed pitching at Fenway Park. We talked about the Red Sox line-up from the early 1970's. The baseball legend signed a baseball for my son and even put that he was 1971 MVP and Cy Young winner. "So you wouldn't confuse me again." Vida Blue said.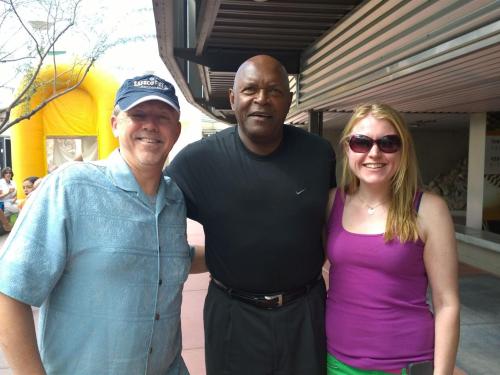 In addition, ASU alumni and fans have an opportunity to make a capital campaign commitment towards the Phoenix Muni renovations. All gifts, no matter the size, are important and appreciated. Fans interested in naming opportunities at Phoenix Muni can contact the Sun Devil Club at 480-727-7700. All commitments are tax-deductible through the Sun Devil Club.
Walking to Sun Devil Stadium from the Magnuson Hotel Papago Inn through the beautiful red sandstone formations of neighboring Papago Park was half the fun. We stopped at the quirky Hunt's Tomb on the way back to the hotel, just one more reason to enjoy a baseball game at nearby Sun Devil Stadium.
ASU Sun Devils tickets are available now at Phoenix Municipal Stadium. Single game tickets start at $12 and season tickets range from $99 for general admission to $375 for field reserved/infield box.
Story and photos by Bret Wirta